Marshmello is noted for his consistency and popularity among numerous individuals. However, a different Marshmello is discussed in this article. This Marshmello is involved in the music industry and wears a helmet. The DJ has collaborated with numerous musicians, including Selena Gomez, Anne Marie, and many others. The DJ did not use a stage name nor does he have an alias. The DJ is wearing an enormous Marshmello helmet. Although there has been some discussion over the artist's identity, he has not yet confirmed it. This article will discuss Marshello's identity and the unveiling of his face.
Since the beginning of his career, DJ enthusiasts are eager to watch Marshmello perform without a helmet. However, it appears that the helmet will not be removed anytime soon. The DJ has often deceived his fans and disclosed his bogus identity as a practical joke. Although there is evidence of a connection to the DJ, the facts are provided in the article that follows.
Who is Marshmello?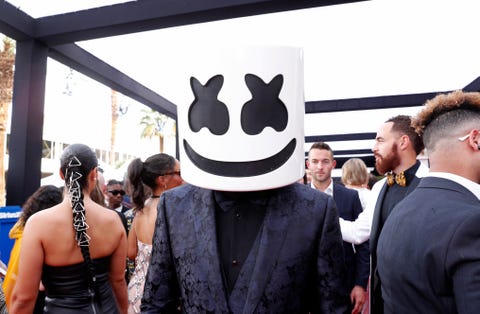 Marshmello is an American DJ and music producer. Notable singles by the musician include "Silence," "Friends," "Wolves," "Happier," and "Alone." All of these songs are immensely successful and critically appreciated. The tracks have been certified multi-platinum in numerous countries and have also appeared in the top 30 of the Billboard Hot 100. The artist's music is strong on bass and synth and groove-oriented. Moe Shalizi is the manager of the artist. The DJ wears a Marshmello-like helmet in the music video he appears in. There are numerous rumours regarding the DJ's identity, but his or her identity remains unknown.
Also Read: Where is Youtuber EDP445 Now ?
Has Marshmello ever revealed himself in public?
In 2016, at EDC Las Vegas, "Marshmello" counted to the audience for his ultimate identity revelation, and the crowd went wild. At the appointed time, the DJ unmasked himself, revealing himself to be fellow DJ Tiesto wearing a Marshmello costume. Marshmello shared the incident's video to his YouTube account.
In an August 2017 interview, the DJ explained why he did not identify himself until now. Marshmello's response was that he does not want any part of the stardom. He is attempting to produce something pleasant and relatable to others. He stated that the helmet is what makes Marshmello, and everyone who wears it becomes Marshmello. In this situation, if a person want to determine Marshmello's identity, all they need to do is hold up a mirror; it's worth a shot.
Also Read: Where is Meriam Al Khalifa Right Now?
Has Marshmello's face or identity been revealed currently?
As stated previously, Tiesto was the first celebrity to announce that he was Marshmello, but since then there have been several instances of celebrities revealing that they are Marshmello. Will Ferrel and Shawn Mendes are among them. According to some claims, Marshmello is actually a man named Chris Comstock, who also goes by the name Dotcom.
All of these identities were only ruses or disguises. There were multiple instances in a 2017 magazine in which another prominent DJ named Skrillex referred to Marshmello as Christopher. According to a separate source, Dotcom and Marshmello share the same leg tattoo. According to the study, after cross-referencing the music royalty database, Comstock must be Marshmello. However, when approached about the name revelation, Marshmello and his manager declined to answer and wished to maintain the mystery.
Even the corporation named Chiptole has participated in the identity guessing game. In January of 2018, the DJ tweeted a photo of himself with the caption "Dreaming of the day when chipotle no longer charges extra for guacamole." The fast food restaurant Chipotle responded, "Dreaming of the day when we discover whether Marshmello is also Dotcom."
If Marshmello is truly as depicted, then the image above represents the unveiling. No one has ever been able to confirm the DJ's identity, and everyone is eager to see who celebrity will be the next to fool the audience with Marshmello's disguise.