Ajay Devgan is a popular comedian and action star in Indian cinema. He also works as a producer and director. He has become one of Bollywood's highest-paid actors, ranking in the top 15 of his profession. Ajay's comedic timing and delivery have earned him acclaim. Very few performers, if any, have worked as hard as Mr. Ajay Devgan.
Over the course of his career, he acted in no less than 123 films. He has been a Bollywood actor since the '90s. When it comes to Bollywood stars, Ajay Devgan comes in at number 12 on Forbes's list. According to Forbes, he made a whopping 94 crores in 2019.
Unknown Facts About Ajay Devgn
Ajay Devgn is well-known for the depth he brings to his roles, yet he has also successfully played comedic roles. His deep voice, piercing glance, and delivery of speech with a slightly cocked head are all characteristics that are true to his identity and help to make him one of the most important and venerable actors in this country.
Ajay Devgn has been a successful actor in India for about three decades, during which time he has received numerous accolades for his contributions to the industry. Though the lives of movie stars are a public record, there are still many details that not even the most devoted fans know.
1. Place of Birth
On April 2, 1969, he was born to a Punjabi family in New Delhi. The city of Amritsar is where his family has lived for generations.
2. Notable Alumni
He attended Silver Beach High School in Juhu and subsequently continued his study at Mithibai College in Mumbai. These schools eventually become the mold in which the great performer hardened.
Read More: 15 Unbelievable Secrets About Sundar Pichai CEO of Google and Alphabet Inc!
3. Ajay's Parents Were Associated with Bollywood
Ajay's mother Veena Devgan was also involved in the film industry as a filmmaker and producer, while Ajay's father Veeru Devgan directed and performed stunts in action films in the 1970s and 1980s. Ajay's brother has ties to the Bollywood industry as well. Ajay Devgan has a sibling, but few people know that. Anil Devgan is a writer and director for Bollywood movies.
4. What is Ajay's Real Name?
His stage name was Ajay Devgan, but his real name is Vishal Devgan. There were several actors in India at the time (1991) using the name, therefore before the release of his film Phool Aur Kante, he altered it (Vishal). As of today, he still manages to amaze everyone with his consistently high quality and originality, which he first began exhibiting back in 1991.
5. Is it Devgan or Devgn?
If you think we've been spelling his last name wrong this whole time, we have some more information to share. Ajay Devgn changed his surname legally from Devgan to Devgn. The justifications for this are up for debate. This happened in the month of August 2009.
6. Ajay Devgn Has Been in Jail Twice Till Now
The artist told Mid-Day in an interview that he was a complete "Gunda" during his time at college. He said, "I have been inside a lock-up twice; I even smuggled out my father's gun," in that address. And, dudes, it's against the law to do that.
Read More: 6 Unknown Secrets Facts About Amruta Khanvilkar Also Appeared On 'Raazi,' Starring Alia Bhatt and Vicky Kaushal!
7. The Similarity Between Ajay and BigB
After Amitabh Bachchan, he is the only male superstar in Bollywood to have won two National Awards for the films The Legend of Bhagat Singh and Zakhm.
8. Padma Shri Recipient
The Indian government honored him in 2016 with the Padma Shri, the country's fourth-highest civilian honor. In addition, Devgn received the CII Excellence Award in Cinema in October 2015.
9. Staunch Hindu
The actor is a devout follower of Lord Shiva, the Hindu god of destruction. He's a devout follower of Shaiva Hinduism, and he wears a Rudraksha as a symbol of his faith. His devotion to Lord Shiva is on full display in films like Shivaay.
10. Ajay and Kajol
Ajay Devgn and Kajol Mukherjee tied the knot in a traditional Maharashtrian Hindu ceremony on February 24, 1999. A son, Yug, and a daughter, Nysa, round out the family.
11. Devgn Owns a Vfx Company
He founded his own film studio, Ajay Devgn films, in the year 2000. Devgn also founded a visual effects studio in 2015; he named it after his two children, Nysa and Yug, and it's called NY VFXWAALA.
Read More: 12 Unknown Secrets Facts About Gautam Adani Chairman Of Adani Group!
12. His Double-Bike Split Ride in His First Film Is Legendary
His Split Ride on Two Bikes in His Debut Film Is Considered a Cult Action Stunt. Although this might be a truth known to many that he began with the movie Phool Aur Kaante in the year 1991 and its songs were a rage back then.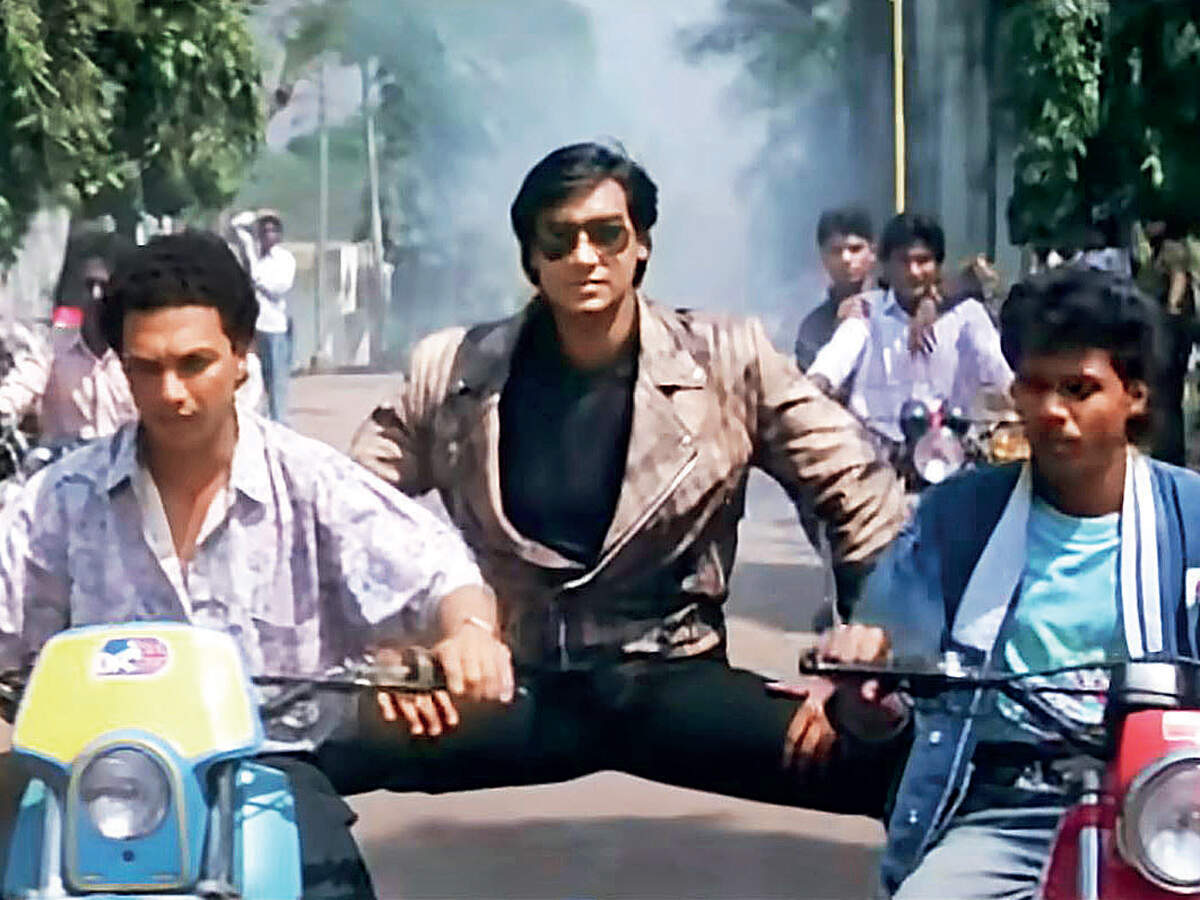 However, not many would know or recall that he won the Filmfare Award for Best Debut for the cited movie. His entry—a split on two bicycles—would be remembered by most of us to this day. One of the most famous opening sequences in Bollywood history.
13. Ajay Devgn Has Not Seen DDLJ
On a chat program, he admitted that, to this day, he had not seen Dilwale Dulhania Le Jayenge, one of his wife Kajol's most successful films (it was released in 1995).
14. Ajay and Rohit Shetty Are Childhood Friends
He has known Rohit Shetty since they were kids and the two of them spent many a birthday together. In addition, both of their fathers were well-known action filmmakers in their own eras.
15 Allegation against Kangana Ranaut
As previously reported, while filming Once Upon a Time in Mumbaai, Kangana Ranaut allegedly had an affair with co-star Ajay Devgn. According to a smattering of media accounts, Ajay and Kangana got along so well that they were able to develop a casual relationship.
The situation escalated when Kangana developed romantic feelings for Ajay, which did not sit well with him because he was committed to his marriage to Kajol. Kangana went on record in a contentious interview with Stardust magazine, saying that she regretted getting connected with a married man.
Check Here for More Updates: BulletinXP