Released on August 15, 1975, Sholay is one of the highest-grossing Bollywood films of all time. The Indian action-adventure film Sholay was released in 1975 and was directed by Ramesh Sippy and produced by his father G. P. Sippy under the banners of United Producers and Sippy Films. The film was written by Salim-Javed.
The film included notable actors including Dharmendra, Amitabh Bachchan, Hema Malini, Amjad Khan, Jaya Bhaduri, Sanjeev Kumar, and Asrani. IMDb gave the movie 8.2 out of 10 ratings. For nearly two and a half years, the film was shot in the stony landscape of Ramanagara, in the southern state of Karnataka.
Following cuts ordered by the Central Board of Film Certification, the final running time of Sholay was reduced to 198 minutes before its release. The 204-minute director's edit premiered on home video in 1990. Sholay was a commercial and critical failure upon its initial release, but thanks to positive word of mouth, it eventually became a financial success.
Sholay Box Office Collection
| | |
| --- | --- |
| Budget | ₹ 3Cr |
| Domestic Nett | ₹ 15 Cr |
| Overseas Gross | ₹ 15.00 Cr |
| Worldwide Gross | ₹ 35 Cr |
| Final Verdict | All-time blockbuster |
The initial run of Sholay in India brought in a net profit of over 150 million (equivalent to about US$16,778,000 in 1975), which was significantly more than the 30 million (equivalent to about US$3,355,000 in 1975) budget.
That sum was the largest ever earned by a film in India, and it stood as the record for the longest period of time that a film had been the highest earner in the country at that level, at nineteen years. Re-releases throughout the late 1970s, 1980s, 1990s, and early 2000s helped boost the film's original box office take even further.
It earned a total of 350 million ($39.15 million) in India through ticket sales. At least one hundred million tickets to the film have been sold in India, according to Box Office India. The picture also did well when it was released in the Soviet Union in 1979. Over the course of its theatrical release in the Soviet Union, the film grossed $48.4 million.
Read More: Dobaaraa Box Office Collection: Taapsee Pannu New Movie Hit or Flop! Check out All the Latest Updates
Sholay Box office Collection Day Wise
| | |
| --- | --- |
|                        Days |                       Amount |
| 1st Day Collection | ₹ 0.08 Cr |
| 2nd Day Collection | ₹ 0.07 Cr |
| 3rd Day Collection | ₹ 0.10 Cr |
| 4th Day Collection | ₹ 0.13 Cr |
| 5th Day Collection | ₹ 0.11 Cr |
| 6th Day Collection | ₹ 0.10 Cr |
Sholay Movie Plot
After doing their time for a train robbery, Jai and Veeru, two small-time criminals, are freed from prison and enlisted by a former inspector, Thakur Baldev Singh, to apprehend a known dacoit named Gabbar Singh, who is wanted for 50,000. They set off for Ramgarh, where Thakur's hamlet is located and where Gabbar has been wreaking havoc among the locals. Veeru develops feelings for Basanti, a sassy and chatty horse-cart driver after they arrive in Ramgarh.
Jai falls in love with Radha, Thakur's widowed daughter-in-law. The pair is successful in fending off Gabbar's extortioners. Gabbar's gang corners Jai and Veeru during Holi celebrations, but the two men are able to launch an attack and drive Gabbar's men out of town.
The two are frustrated with Thakur for not helping them while they were in danger (Thakur had a rifle at the ready when Jai and Veeru were surrounded, but he did nothing to assist them). The only reason Gabbar did not use the gun was that Thakur revealed that a few years earlier, he had slain his family members (save Radha) and had both of his arms cut off, concealing the dismemberment techniques by wearing a shawl.
When Jai and Veeru learn this, they swear to bring Gabbar in alive. As soon as Gabbar finds out about Jai and Veeru's bravery, he murders Ahmed, the son of local Inam Rahim Chacha, and commands the villagers to hand them over to him.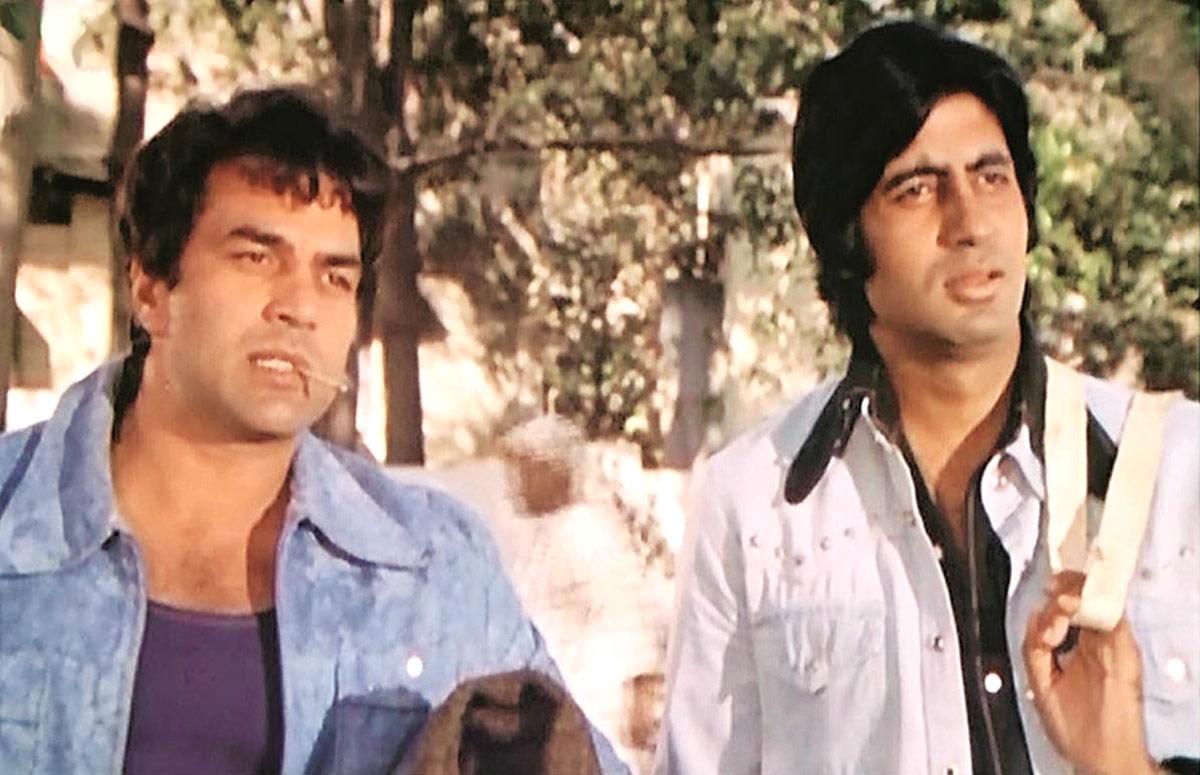 Instead, the villagers turn down Gabbar's offer and pay the duo to take out a few of his goons. In retaliation, Gabbar has his men seize Veeru and Basanti. After Jai's arrival and attack, the three manage to escape Gabbar's stronghold with the bandits in hot pursuit.
Cast
Dharmendra as Veeru
Sanjeev Kumar as Thakur Baldev Singh
Hema Malini as Basanti
Amitabh Bachchan as Jai (Jaidev)
Jaya Bhaduri as Radha, Thakur's daughter-in-law
Iftekhar as Inspector Khurana, Radha's Father
Amjad Khan as Gabbar Singh
Satyen Kappu as Ramlaal, Thakur's servant
Filming
Ramanagara, a town close to Bangalore, Karnataka, provided much of the film's rocky backdrop. In order to get to their sets easily, the filmmakers had to construct a road connecting the Bangalore highway and Ramanagara. This was the site of a city-commissioned by art director Ram Yedekar. An outdoor jail set was built next to Rajkamal Studio in Bombay to simulate the ambient lighting of real-world prisons.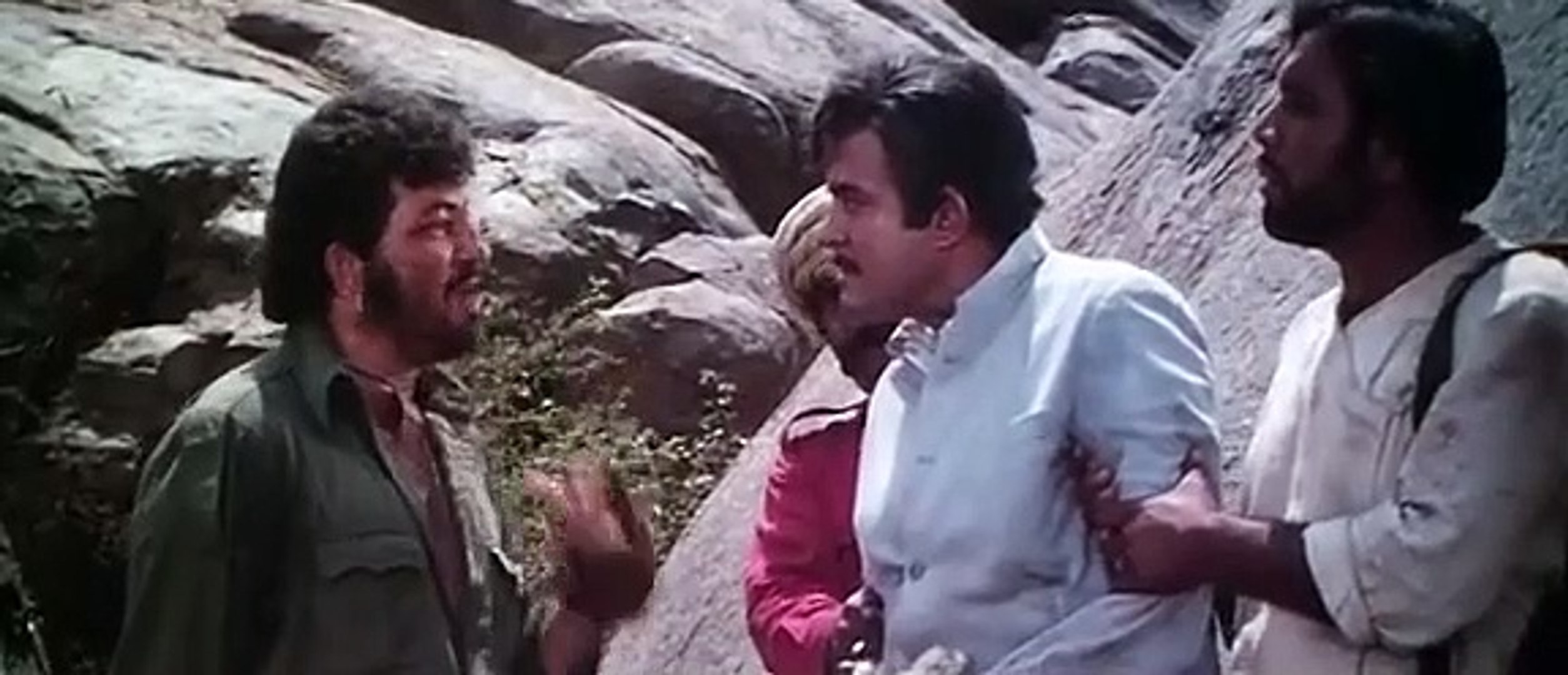 For a while, a section of Ramanagara was affectionately known as "Sippy Nagar" in honor of the film's director. Tourists passing through Ramanagara in 2010 could still go on a trip to the "Sholay rocks" (where much of the film was shot). On October 3, 1973, a sequence starring Bachchan and Bhaduri was filmed for the first time on location.
The film's two-and-a-half-year production took longer than expected, cost more than expected, and included an extravagant production for the period (including frequent dinners and parties for the performers). The hefty price tag was due in part to Sippy filming the same sequence multiple times to achieve the desired effect.
The 5-minute song sequence "Yeh Dosti" took 21 days to film, two brief moments in which Radha lights lamps took 20 days to film due to lighting issues, and the scene in which Gabbar kills the imam's son took 19 days to film. More than seven weeks were spent filming the train heist episode on the Bombay-Poona railway track near Panvel.
Read More: Valimai Box Office Collection: This Ajith Kumar Starrrer Film Cross Over Rs 202.64 Crores!
Category
Recipient
Award
Best Editor
M.S. Shinde
Filmfare Award
Best Film in the Last 50 Years
of Indian Cinema
Ramesh Sippy
Filmfare Award
in 2005
Best Supporting Actor (Hindi)
Amjad Khan
BFJA Award
Best Art Director
Ram Year
BFJA Award
Best Cinematographer (Color)
Dwarka Divecha
BFJA Award
Check Here for More Updates: BulletinXP