The third season of Outer Banks is about to premiere! There are only a few days remaining till the Outer Banks season 3 Netflix release date.
It has been nearly two years since Netflix published the last season of Outer Banks. Season 2 of Outer Bank premiered on July 30, 2021, and it was the most popular season of the teen adventure series to date. The third season will reunite fans with the Pogues.
Those who binge-watched Outer Banks season 2 on July 30, 2021 will have waited 573 days until season 3 becomes available on our watch lists. That is not the longest time between Netflix seasons, but it certainly demonstrates the viewers' commitment.
John B., Sarah, Pope, Kie, J.J., and Cleo are awaiting our arrival on their private (well, desert) island, Poguelandia, where the new season will begin. When day and time will the next season be available on Netflix?
Outer Banks Season 3 Release Date: When Is It Coming Out?
Outer Banks Season 3 premieres one month from today! pic.twitter.com/ECipQKJhsx

— Netflix (@netflix) January 23, 2023
The third season of Outer Banks will premiere globally on Netflix on Thursday, February 23, 2023. You may have noticed that Netflix publishes new seasons on Thursdays rather than Fridays. This means you should be on the lookout for spoilers earlier than normal, but you can begin viewing well before the weekend.
Although though it's just a week away as of Valentine's Day, there's still time to binge-watch the first two seasons to refresh your recollection of the Pogues' past mishaps. Check out the season 3 trailer in the video below for now.
Also Read: When Will the Nevers Season 2 Release Date Come Out?
Who Is in Outer Banks Season 3 Cast?
The Outer Banks Season 3 cast includes:
Carlacia Grant, who portrays rookie Pogue Cleo, has been elevated to a series regular, along with the following cast members: Cullen Moss as Shoupe, Julia Antonelli as Wheezie Cameron, Caroline Arapoglou as Rose Cameron, E. Roger Mitchell as Heyward, Charles Halford as Big John, and Elizabeth Mitchell as Limbrey.
According to Deadline, Andy McQueen has joined the cast as Carlos Singh, "an intelligent, refined, and ruthless Caribbean Don who is on his own treasure hunt."
Fiona Palomo will play Sofia, a "likeable and scrappy" character "who identifies as a Punk but secretly yearns to be a member of the country club crowd… She begins to develop a close relationship with Rafe."
Ryan, portrayed by Lou Ferrigno Jr., is described as "calm but young and hungry… The chief security officer and enforcer for Singh.
The showrunners told Tudum, "It's been gratifying to see the cast's friendships deepen over the course of the series' run. They are truly Pogues for Life."
Outer Banks Season 3 Plot: What Is It About?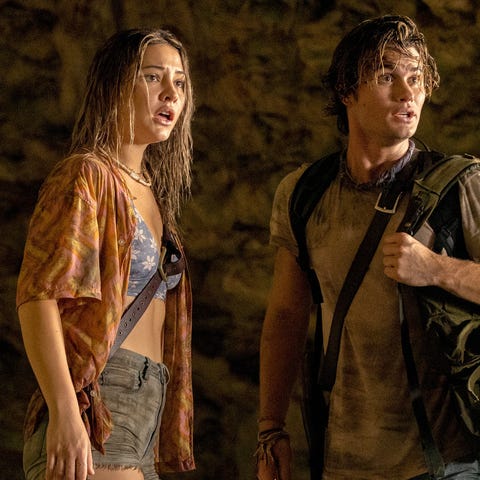 "After losing the gold and fleeing the Outer Banks, Season 3 finds the Pogues washed up on a desert island that, for a brief moment, seems like an idyllic home.
"Officially designated as 'Poguelandia,' the island's newest inhabitants spend their days fishing, swimming, and enjoying the carefree lifestyle of their temporary home.
"However, things quickly deteriorate for John B, Sarah, Kiara, Pope, JJ, and Cleo when they once again find themselves in a race for the treasure, literally running for their lives.
"They're broke and far from home, they can't trust anyone, Ward and Rafe are ready for retribution, and there's a merciless Caribbean Don who will stop at nothing to find the bounty. Was the riches ever accessible to them? Or was it all a trap to permanently halt them? In any case, it's the Pogues versus the world, and the only way out is to work together."
Also Read: What Is the Release Date for The Last Of Us Episode 6?
Outer Banks Season 3 Trailer: Is There a Trailer?
Yep, there are two Season 3 trailers for Outer Banks, which you can view below: