"Married at First Sight" is an intriguing experiment that examines whether a marriage can survive if the pair knows nothing about each other before being married. The show assembles a pool of unattached individuals and employs relationship specialists to pair them up. Before embarking on their honeymoon, these newlyweds meet at the altar and are married. In addition, newlyweds are permitted to settle into daily life before deciding whether to divorce or remain together.
When introduced in season 14, Katina Goode and Olajuwon Dickerson quickly became fan favourites. Viewers adored the fact that the two individuals were quickly attracted to one another and anticipated that the couple's connection would endure. Let's take a closer look to determine if they are still a couple, shall we?
Olajuwon and Katina: About The Couple
Before they met, both of these lovers were pursuing successful careers. Olajuwon, who was 29 years old and worked as a Municipal Wastewater operator, was the same age as Katina, who was a Benefit computation analyst. After getting to know each contestant, it became clear that Olajuwon had extremely particular preferences.
He desired a housekeeper who would cook, clean, and take care of the home, whereas Katina is a strong lady with life aspirations. This also got Olajuwon in difficulty with the show's supporters, although he eventually changed his mind. Meeting Katina was a turning moment in his life, and they were one of the season's most devoted couples. Both of these individuals want genuine love and were tired of playing games.
Also Read: Is Jax Taylor and Brittany Cartwright Still Together After Leaving Vanderpump Rules?
Katina and Olajuwon's Married At First Sight Journey
Katina Goode and Olajuwon admitted, intriguingly, that they enjoyed partying and having fun. They were not concerned with settling down, and Olajuwon claimed to have been a playboy in the past. As Olajuwon discovered that his relationships were unsatisfactory and did not bring him satisfaction, Katina's frustration rose as she was never fortunate enough to have a healthy relationship. Consequently, after a run of failed relationships, they spent a few years rediscovering themselves and were finally ready to commit to a single person.
Olajuwon stated that he was eager to settle down and start a family, but his loved ones were sceptical of his devotion. The fact that Olajuwon was a little too forthright with the strippers at his bachelor celebration, an action he later regretted, made his resolution appear extremely fragile. Once the big day arrived, Katina was overcome with anxieties and concerned that Olajuwon would not approve of her appearance. Once the couple stood face-to-face, their mutual desire became fairly apparent, and there was an undeniable romantic spark between them.
When the groom's family learned that Olajuwon anticipated Katina to be a good cook, the ceremony encountered a minor hiccup. But, he quickly put her at ease by proposing on one knee during the ceremony. Once Olajuwon and Katina were acquainted, Katina discovered that her husband was high in energy and enjoyed sharing his thoughts. Olajuwon couldn't stop thanking his lucky stars that he ended up with such a beautiful wife, which grew tiresome for Katina as she was unable to match his level of enthusiasm.
While Katina was pleased to have a handsome, conversant spouse, she appeared to be somewhat overwhelmed and somewhat anxious about her future. Even though Olajuwon attempted to initiate intimacy, Katina did her best to maintain her aloofness and reserve. However, the couple seemed to put their worries aside as they became quite comfortable dancing together and even found that they had a desire to travel for a few years prior to settling down and establishing a family.
Also Read: Are Robert and Danielle Still Together? Robert and Danielle's Current Relationship Status!
Are Katina and Olajuwon Still Together?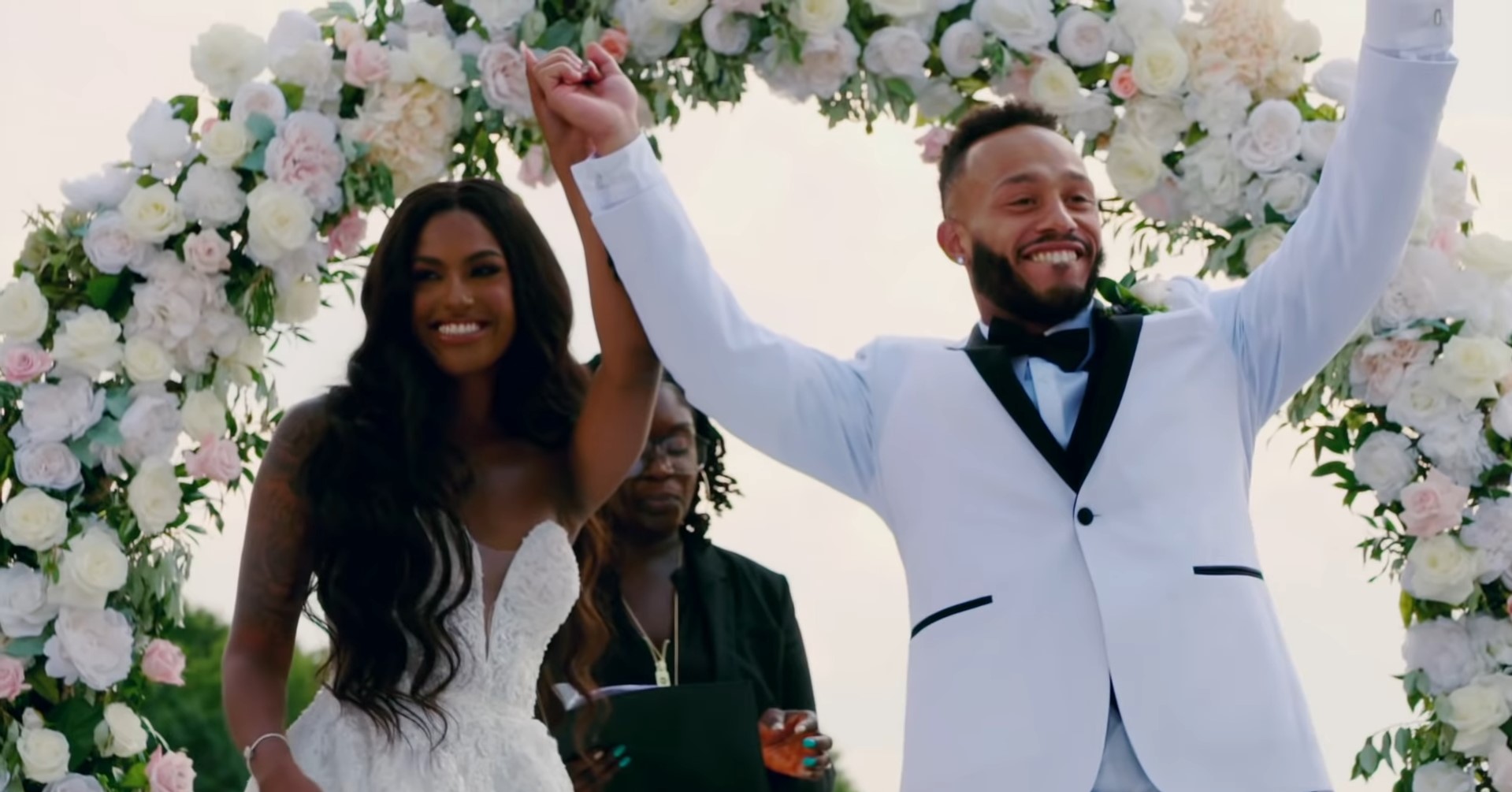 Fans will be relieved to learn that there is no evidence of Katina and Olajuwon's separation. Nonetheless, it should be noted that the pair is quite quiet about their personal life and has a restricted social media presence. Katina stated on the show that she initially hoped to be paired with an athletic individual. Yet, she was ecstatic when she realised Olajuwon has precisely the personality she desired in a spouse. Nevertheless, Katina appeared enamoured of his tattoos and thought him appealing.
Olajuwon, on the other hand, appeared head over heels in love with his wife and frequently referred to her as a dream. Olajuwon stated that he was done with his previous lifestyle and wished to settle down, despite rumours that he would change his mind in the future.
Also Read: Are Alexis Maloney And Hunter Parr From 'The Ultimatum' Still Together?
In addition, the couple will not be able to announce their present relationship status until the season finale, as 'MAFS' has a strict policy against revealing the relationship status of the couples until the season finale. We deduce that Katina and Olajuwon have likely made their relationship work and are still together due to their intense chemistry and shared desire for compromise and stability.