Season 6 of SEAL Team air as part of the autumn program for the 2022–2023 television season. This is just one of many questions that fans have been asking, and we know they are eager for answers. The next season is returning this year after the show was renewed back in February of 2022. It's easy to see why fans' questions would make them more excited and curious.
Keep reading to discover the solutions you seek. Even when they thought their friend and ally, Clay, was dead, the team fought like never before, showing their legendary toughness. We had a hard time getting through the first half of the season's debut. The next season of such shows typically begins with a time jump after a cliffhanger ending.
SEAL Team Season 6: Storyline
The series follows the members of the Bravo Team, a sub-unit of the United States Naval Special Warfare Development Group, the most elite group of Navy SEALs, as they plan and carry out deadly missions all around the world on short notice.
All Bravo Stations, the season five finale, aired on January 23, 2022, therefore it is reasonable to assume that the next season will pick up where the previous one left off in terms of plot. Both Christopher Chulack and Spencer Hudnut contributed to the episode's script.
In the series finale, viewers learn that Team Bravo must attempt a daring escape in order to put Venezuela in their rearview mirror; nevertheless, once they return to Virginia Beach, they find themselves in an even more precarious position.
It is expected that the new season will pick up where the previous one left off, continuing the story from this point forward, and picking up any cliffhangers or side plots from the previous season before diving headfirst into this world with more experiments to give viewers something new to think about rather than the same old themes.
Read More: Delhi Crime 2 Review: Criminal Drama Series Starrer Shefali Shah Has Won the Hearts of The Millions of Fans!
SEAL Team Season 6: Episode 1
Bravo Team may soon be finished. While Episode 2 of Season 6 of SEAL Team advanced many plots, it also seemed to resolve some of the conflicts that had been established in Episode 1 of SEAL Team. Heartbreakingly, Clay had no idea what had happened to him after he flatlined, so he had no idea that half of his right leg had been amputated. Since he disliked having help from others, he spent a good portion of "Crawl, Walk, Run" trying to get back on his feet.
Since he was set on taking some time away from the team to be with his loved ones, hearing that he faces an uphill battle in getting back to work must have been emotionally trying. But considering how badly #1 reacted to his thoughts of leaving, it's likely that he does have feelings about Jason. If they hadn't reconciled, I wouldn't have expected Sonny to be there for every step of Clay's recovery.
Sonny can always lighten the mood, even if he goes a little too far sometimes. He's the epitome of someone who speaks before thinking things through, but at least he means well. Stella's face betrayed her extreme annoyance at his making fun of Clay's leg. Regardless of the situation, Sonny is not the type of person to treat Clay any differently, so having him around is a plus for Clay.
Indeed, Clay faces a steep uphill climb, and this is Max Thieriot at his finest. If this is indeed Clay's final arc, then the writers have created something truly remarkable. Now that Jason is opening up to Mandy about his emotions and sharing his perspective, their relationship is flourishing. Even if Mandy's new job takes her away from the United States for months at a time.
I hope they can continue this relationship because Jason has blossomed here like a flower in the sun. Mandy's cute gesture of offering to postpone her departure once more reflects her deep affection for the man who has so often irritated her. The situation becomes more complicated whenever a group of TV characters decides to work together since many showrunners choose to inject ongoing conflict in order to make the eventual payoff more satisfying.
Read More: Pinocchio Review: Tom Hanks Starrer Disney Remake Is Stunning To Look At But Lacks Real Depth!
In contrast, Mandy and Jason's relationship here feels very real, and I can only hope that it stays that way. Although Jessica Pare's future with SEAL Team is never certain, she did an excellent job directing "Crawl, Walk, Run." Even though it was clear that nothing of lasting significance would occur during the team's mission, there were still plenty of tense moments.
The choice of shooting the team members as they swam under the moonlight hinted at more than what was actually happening. I don't know what to say besides, "Poor Trent, and by extension, Sonny." After Trent's terrifying ordeal, he took a leave of absence from the military. It was tragic that he nearly drowned on his first mission back.
The fact that Davis won't let go of the team's misfortune is intriguing because so many questions remain unanswered. Without a resolution, how can the group move forward? Davis has been placed in a position of authority, and she is expected to refrain from questioning the status quo. Davis is not like that, and she won't stop until she finds the truth.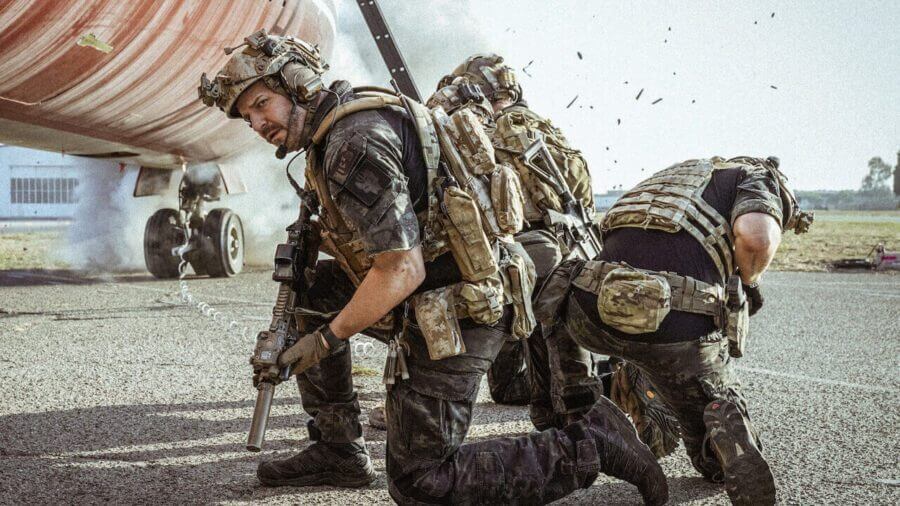 My assumption was that they had accepted the fact that getting together would cause problems, so Sonny's question about their status as a couple caught me off guard. Sonny has had a lot of bad luck in relationships, but he finally found the one in Davis. If the Bravo team is broken up, perhaps its members will find a way to work together again.
Whatever is in store for the team is unknown to us, but Davis and Jason's conversation does not bode well. Considering the public backlash they've received on their most recent missions, keeping the team together is probably not an option. It's exciting to keep watching because you never know what will happen next.
I was wondering what you thought about Clay's new adventure thus far. Do you appreciate that Sonny has been there for him the whole time? Can Sonny and Davis get back together, or should we prepare ourselves for more heartbreak? Can you tell me what you think about Mandy's new position? Do it in the discussion section.
Read More: Chicago PD Season 8 Finale Review: 'Upstead' Takes a Major Step Forward in Finale!
SEAL Team Season 6: Episode 2
After hearing that Max Thieriot had been cast as a regular on Fire Country, fans couldn't help but wonder if Clay's storyline was coming to a close. Bravo Team's struggle for survival in the aftermath of the ambush that concluded Season 5 of SEAL Team was a showcase of top-notch acting, directing, and writing.
In retrospect, it seems miraculous that any members of this team survived what was undoubtedly the most terrifying experience of their lives. While the team has always been tenacious, they showed it to a new level in this battle when they saw their friend and ally, Clay, was about to die. I'll be honest: I had a hard time getting through the first half of this season's premiere.
Shows that end on a cliffhanger like that tend to jump ahead in time at the beginning of the next season.  However, much of the credit should go to the writers for immersing the audience in the struggle for survival. The state of Clay's health was obviously serious. The lower portion of his leg was blown to bits. To hold it together was a temporary measure until they reached safety.
Though it appeared that Clay was done for, he recovered and bandaged his wounds as best he could under the circumstances. The mission's consequences would have to be dramatic for them to serve as the season's driving force. Seeing Clay in the hospital didn't make me feel warm and fuzzy inside. He was clinging to life by a thread, and his heart would stop beating soon.
A lot of TV shows have characters die in the hospital, but I really thought Clay was going to be one of the exceptions to that rule here. Thankfully, he seems to be doing okay… for the time being, and it's possible that Thieriot will be absent from future episodes of The Flash while the actor focuses on Fire Country.
Having his leg amputated will be a major setback for him. He had previously expressed an interest in departing from Bravo Team, but after this near miss, he has a newfound appreciation for life. That moment when Sonny stayed behind to watch out for Clay was as perfect a culmination of their relationship as we're likely to see.
Read More: Karthikeya 2 Review: Nikhil Siddharth Starrer A worthy Successor That Takes The Story Forward!
They may have had some problems in the past, but they're all resolved now and they're truly inseparable. The revelations about Clay's situation that Stella learned about made for dramatic moments. It's no surprise that she tried to get in touch with him right away, so it was great to see them finally connect through video chat later in the episode.
Bravo Six's close-knit families showed their mettle once again, banding together to help when one of their own was in danger. Jason's self-blame for Clay's participation in the mission was standard operating procedure, but at least it demonstrated that he is giving his actions more consideration. Not releasing his emotions is one of his major flaws, which causes problems in the long run.
Since Mandy was used to him not communicating with her, his honesty about his thought process caught her off guard. And that's why things got rocky in their relationship during Season 5 of SEAL Team, but now they're talking things out. Perhaps this relationship still has potential, but with nine more episodes to go, anything can happen.
That they are making progress at all at this point is enough to make me happy. It's likely that the intrigue surrounding the ambush will be a major plot point in the upcoming season. Although Blackburn's dismissal of Davis's concerns came as a surprise, can we really expect Davis to overlook this? It's terrible that Davis can't express any kind of theory or opinion without having it dismissed.
After such a massive catastrophe, it stands to reason that finding out who or what was responsible for the coordinated assault on Bravo Six would be a top priority. Although it appears that most people would prefer to ignore this issue, doing so will not win over the team's members or anyone else in their orbit. In fact, if Jason hadn't gone into the lion's den, the entire team would have been doomed to certain death.
Jason had no trouble grasping his mission to rescue his team, but it appears that no one is beyond their loved ones, and Davis is invested in the outcome. Longtime viewers were rewarded handsomely in "Low Impact," an episode with high stakes. We have every reason to be optimistic if this is any indication of what lies ahead in the shortest season on record.
Read More: Kaduva Movie Review: Release Date, Trailer, Where, And When To Watch!
Due to the transition to Paramount+, the season has been shortened to a smaller number of episodes than usual. There are usually ten episodes in a season of a streaming show, and I think it's best to have a season that is shorter and has a more defined goal.
Have any thoughts on the decision to amputate Clay's leg? Are you saying you anticipated his demise? Have any thoughts on Jason's decision, to be honest with Mandy? Is Davis likely to give up on trying to find the truth? If you have any questions or comments, post them below.
SEAL Team Season 6 Cast
There is high anticipation that the returning cast members from the previous season will continue the storyline in the upcoming season. Here are some of the series' most prominent roles, each of which will be filled by a new actor:
David Boreanaz as Master Chief Special Warfare Operator Jason Hayes
Max Thieriot as Special Warfare Operator Second Class Clay Spenser
Jessica Paré as Amanda "Mandy" Ellis Bravo Team's CIA liaison
Neil Brown Jr. as Chief Warrant Officer 2 Raymond "Ray" Perry
J. Buckley as Special Warfare Operator First Class Percival "Sonny" Quinn
Toni Trucks as Lieutenant (junior grade) Lisa Davis
Judd Lormand as Commander, formerly Lieutenant Commander
SEAL Team Season 6: Trailer
Sure enough, there is! There is a Season 6 SEAL Team trailer down below.
Check Here for More Updates: BulletinXP