As the 9-year-old boy in a viral video known as "Cornerstore Caroline," he has been struggling to move forward since a woman falsely accused him of sexual assault on camera. This has led to a national conversation about racial profiling and excessive 911 calls made against African American people.
Good Morning America did an exclusive interview with Jeremiah Harvey on Friday. He said he was traumatized and forced to think about race in new ways after the white woman told him that he touched her at a store.
People across the country were shocked when a woman named Teresa Klein said that Jeremiah touched her at a convenience store in Brooklyn, which was not far from where he lived.
During the video, Klein can be heard saying, "I want the cops here right now." "I was raped by a child!"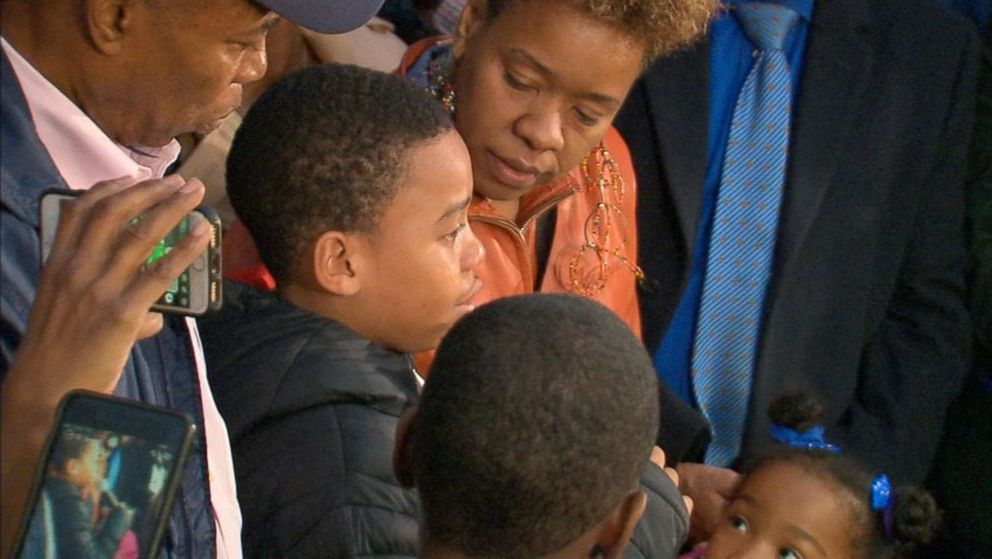 When surveillance footage showed Jeremiah walking by with his hands in front of him, Klein said sorry.
I called 911 because this woman was very aggressive, Klein told New York ABC station WABC. Klein said the boy's mother, who she said threatened her, was very angry and called her names. Sorry, I don't know who you are.
Klein said that she got threats on the phone after the incident. She also denied that her 911 call was made because of her race.
Read More Math Hoffa Accused of Rape by Queen Kee Kee: Rapper And Singer..!!
With his mother and little sister, Jeremiah went shopping. Klein made accusations against him, which caused him to cry and yell for his mother to help him.
When he was a child, Someko Bellille's mother said that the woman "made it about race right away." On the phone, she says that I'm a white woman, that I'm in front of this deli, and that I'm on the phone.
Bellille said Friday that she was sexually assaulted by the son of a black mother and her two black children while she was out with them. A black woman said, "Black child, black mother, white woman."
He was "taken for granted," she said. Because he was afraid the police would take him or his mom away, Jeremiah wept that night. He told "GMA." Bellille is worried that her son will be scarred for life because of the accident.
There were a lot of police cars on Flatbush Avenue when he was walking away. "Mommy, are they here to take you away from us?" he asked.
Bellille said she had a hard time telling her kids about the accident. In an interview with "GMA," the woman said, "I never thought I'd be having this conversation with my son when he was 9 years old. I never thought I would be having this conversation."
When she turned to Jeremiah, she said, "That fear that was put in your heart is going to be replaced with something even better." If other kids follow you, they'll be better people.
"This is going to take a while." It will take a long time to get better, she said. Jeremiah broke down in tears when the family spoke out for the first time this week at a meeting in Brooklyn, where they were.
"I don't think I can forgive this woman, and she needs help," he said. Days later, when he was asked if he would forgive Klein after seeing her on-camera apology, he said, "Yes." "Yes, that's correct. Not at all."
A few days ago, Jeremiah said he didn't know how he was going to move forward. Then, he plans to do it with love. "Friendship is the key," Jeremiah said. It changed his mind about accepting the apology that she gave him.
Jeremiah Harvey spoke at a community meeting on Wednesday about Teresa Klein, the woman who called 911 on Harvey after she said he groped her as he left a bodega with his mother in Flatbush, New York.
Read More 'Doctor Strange' Actor Zara Phythian, Accused Of Grooming, Having * With A Child.!
Harvey said that "friendship is the most important thing," and he meant it. In the meeting, Harvey's mother, Someko Bellille, also spoke. She asked, "What happened to us respecting one another, having unity, and being neighbors?"
He said, "I don't forgive this woman, and she needs help." Jason Littlejohn was a bystander when Klein and Harvey got into a fight. He took a video of the fight. During the 911 call, Klein says, "I want the cops here now." She says Harvey's mom yelled at her because Harvey's son grabbed her ass.
However, surveillance footage from inside the bodega shows that Klein's backpack bumps against the boy areas he leaves the store. Klein is said to have said to the New York Times, "Young man, I don't know your name, but I'm sorry."
Klein should be investigated by the NYPD to see if she broke the law, says Eric Adams, the Brooklyn Borough President. He likens the incident to a "modern-day Emmett Till moment."