If you want to learn Spanish for less money or don't have time for classes but want to learn it on the bus or during your lunch break, the best way to do this is with an app.
When you use the best Spanish apps, you can learn Spanish in a fun and easy way.
There are a lot of apps to help you learn Spanish, so how do you choose the best one?
Don't worry, we've taken care of everything! We looked into and tried out different apps to help you choose the best one for your level and the skills you want to work on. Here are 11 great apps you can use right now to learn Spanish and improve your writing, hearing, speaking, spelling, reading, grammar, or vocabulary.
1. Duolingo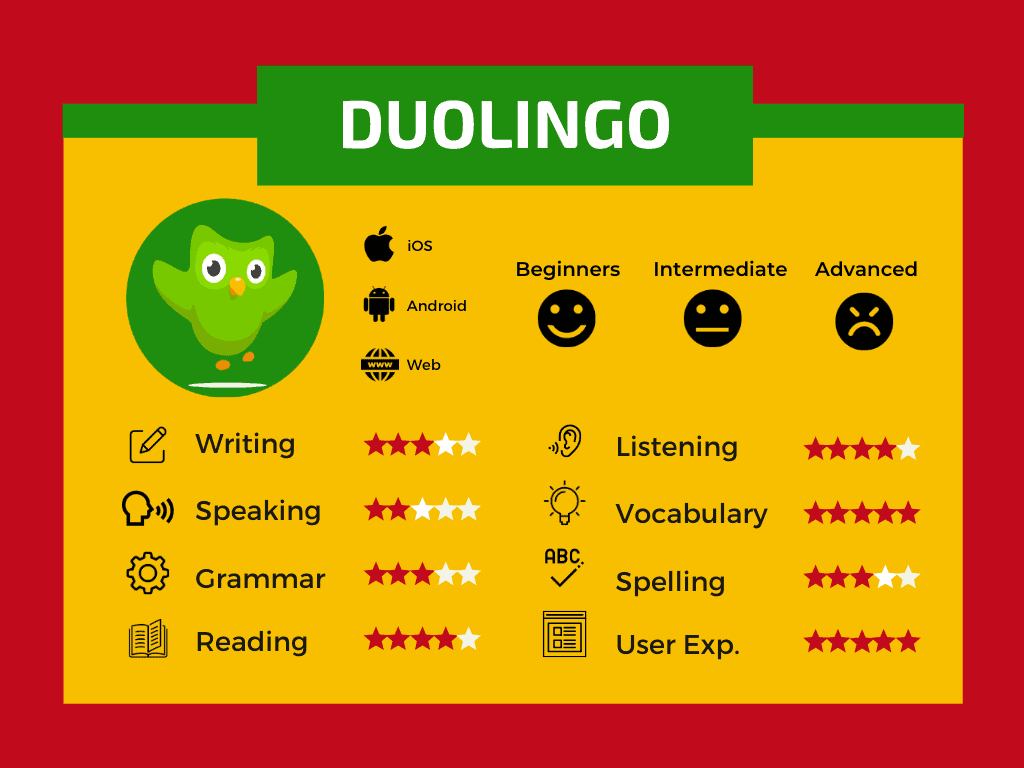 Since its start in 2011, Duolingo has grown to have more than 500 million users worldwide (2022) and about 40 million regular users each month. There are 43 languages to learn on Duolingo right now.
It's a good app for first-time language learners because it's easy to use and keeps you interested. Beginners learn a good amount of words on a variety of subjects.
There is also a new tool on Duolingo that lets you finish short stories about different topics. You have to do small jobs that test how well you understand the story.
Pros:
Great design, entertaining and enjoyable
Short classes: no more than 10 minutes each
Gamified learning system (skill levels, day streak, leveling up, fluency meter, etc.) keeps you engaged and motivated
Bonus lessons:
– Flirting and pick-up lines (yes, you read that right!)
– Idioms and proverbs
Cons:
Mostly good for beginners so not suitable for serious learners
No proper grammatical explanations (you're supposed to learn intuitively)
Not specialized in Spanish (standardized procedure for 43 languages)
Read More: How to Use Grammarly Chrome Extension ?
2. Memrise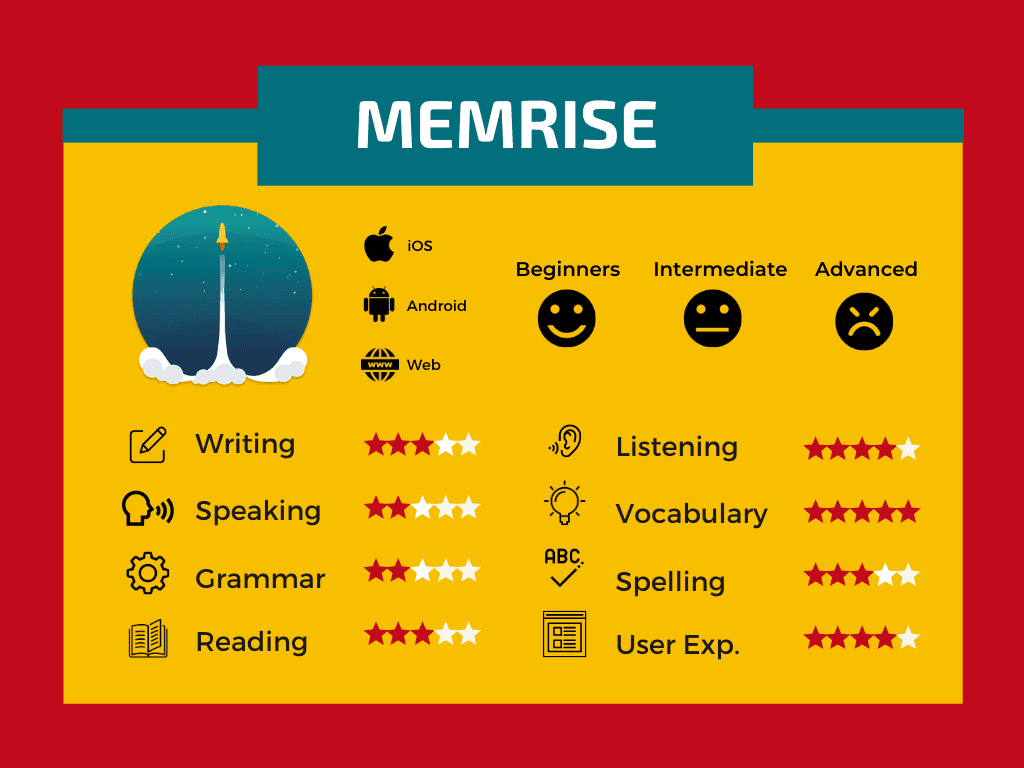 Memrise is a language app for learning new words. Each lesson teaches you about 15 new words, and if you keep at it, you can build up a very large vocabulary. Memrise is kind of like Duolingo in that it turns learning into a game.
Instead of learning words in a boring way, you see them in full lines, which makes it much more fun. The thing that makes Memrise stand out as an app for learning Spanish is that you can make your own lesson.
Clips of native speakers in different settings and in funny situations are a great way to see how the words are used. You can get better at understanding Spanish and learn about the different kinds of Spanish with this app.
Want more practice with understanding? Check out the list of The 17 Best Spanish Podcasts to get some ideas about what to listen to next.
Pros:
Diversity of courses and topics
Entertaining phrases and explanations
Play and compete with friends
Great user interface
Cons:
Weak grammatical explanations
The uneven quality of the courses
Only useful if you commit to using it every day
Not specialized in Spanish
3. Busuu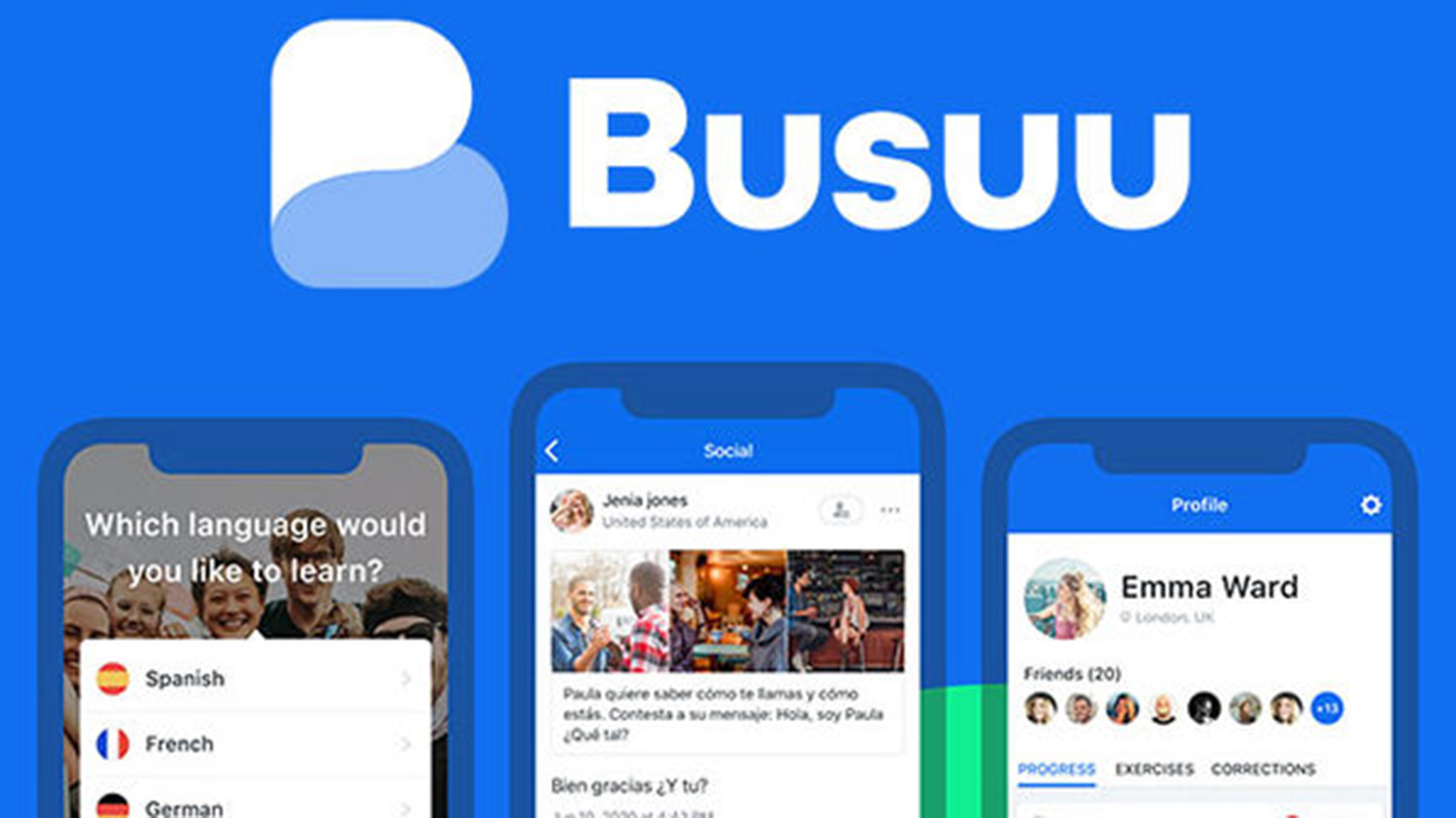 Busuu is a great alternative to both free and paid apps.
The app has full grammar lessons with useful tasks that can help both beginners and intermediate Spanish learners get to the next level of their language skills.
Busuu uses many different pictures and sound files to help you learn new words. It has a lot of helpful tools for understanding writing, so you can focus on understanding conversations to learn the language.
It also gives you the chance to talk to other users and native speakers, so you can trade tasks and have them corrected. From A1 to B2, there are different ways to learn a language.
There is paid material like podcasts, but even without those features, this app is a great way to learn Spanish.
Pros:
Very easy to use and quite engaging
Good quality and a wide variety of topics
Possibility to talk to other learners
Possibility to contact native speakers through chat
Cons:
No tutor
Need to pay a premium plan to continue with your progress
Read More: How to Turn Off Do Not Disturb On iPhone with iOS 15?
4. MosaLingua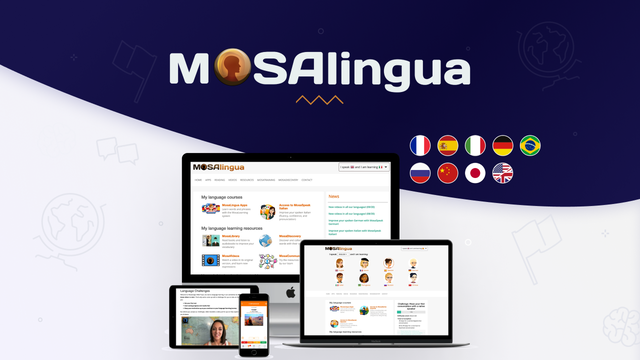 When it comes to Spanish learning apps, MosaLingua has a good score. Most of its success comes from how it is put together. There are a lot of sub-categories, different kinds of games, and different levels, from easy to hard.
Depending on how you learn, this app might work really well for you. The SRS (Spaced Repetition System) flashcard tool is the most interesting thing about this app. Sounds strange, doesn't it?
The app comes with a list of flashcards that will help you remember words and phrases that you want to learn. In fact, these cards have tapes of how native speakers say the words, so you can't say them wrong. There is also an opportunity to look around and learn about Spanish grammar rules if you want more information.
The free material in this app is limited, which is a shame. But if you think MosaLingua's method could work for you, you might want to buy the full app to get access to the other levels.
Pros:
Explore topics that you desire freely
Hands-free mode (speak only)
Flashcards are an efficient way of learning
No invasive push notifications
Cons:
Not recommended for cramming before a test or a trip abroad
Very limited free content
Read More: How to Take a Screenshot On iPhone?
5. Babbel
Babbel is a paid app that lets you learn 14 different languages from the beginning to the intermediate level. It has solid, well-organized classes that can help you learn to write, read, and listen in Spanish.
Like the other apps listed above, this one has a lot of exercises like texts to read, phrases to finish, and audios to listen to. All of them are about different things that happen in real life. Some tasks ask you to say certain phrases out loud, which forces you to work on your speaking skills.
Even though Babbel's design isn't the best, this app lets you choose from a wide range of levels and topics to find the one that works best for you. It also has a good structure that helps explain parts of the Spanish language that a typical learner might find hard to understand.
Pros:
Easy-to-understand grammar tips
Focuses on long-term retention by reintroducing words and phrases periodically
Review Manager, with review sessions
Cons:
Courses only available up to an intermediate level
Does not keep you engaged in terms of content
Lacks some fun and some exercises are a bit repetitive