Instagram started letting users pin comments to the top of their posts in July 2020. This lets them show off the most interesting comments on their posts and get more people to interact with them. If you want to become well-known on Instagram, this is a way to show off the best parts of your page.
Find out how to handle comments on your Instagram account by reading on.
How to Pin a Comment on Instagram Using an iPhone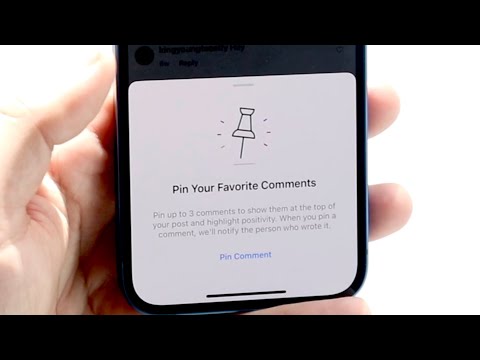 It's easy to pin a comment on Instagram with your iPhone. Here's what you need to do:
Open the Instagram app on your iPhone.
Look for the post where you want to pin a comment and search for the comments button. It should look like a speech bubble and can be found between the 'like' and 'send' buttons.
Swipe left on the comment that you want to feature.
Tap the pin icon. Then, tap the Pin comment button once it shows up.
If you pin a comment and then change your mind, you can always take it down. Choose the comment, swipe left, and tap the pin icon again. You can only pin three comments on your Instagram posts.
Read More: How to Delete All Searches in Google My Activity?
How to Pin a Comment on Instagram Using an Android Phone
If you use Android, here's how to pin comments to your posts:
Open the Instagram app on your Android device.
Tap and hold the comment you want to pin. A toolbar will appear at the top of your screen.
Tap the pin icon to pin the comment.
To unpin the comment, tap and hold the comment icon and wait for the toolbar to show up again. Then, tap the pin icon to remove your comment. In your posts, you can pin up to three comments.
Read More: What is Spotify Premium APK And How Does It Work?
Can You Pin Your Own Comment on Instagram?
No. Instagram made the "Pin Comment" feature to help stop cyberbullying and give users a way to share positive comments. While you cannot pin comments on your page, you can do so during live streams. Simply post a comment on your live video, tap on your comment, and select "Pin Comment" so that it appears with a pinned tag on your Instagram live.
Managing Your Instagram Comments
With the "Disable Comments" feature, you can easily stop any negative comments from showing up on your posts. To block all comments, just tap the three-dot menu in the comments section and choose "Turn off comments."
You can also choose "Hide offensive comments" to put negative comments in a separate area that other users can't see. For a more targeted approach, use Advanced comment filtering and Hide message requests to block words or phrases you don't want associating with your posts.
Key Takeaways
You can keep a positive vibe on your page by pinning positive comments from your followers and removing any negative ones. Instagram also lets you disable and delete comments from users who make offensive or hateful comments, so you can stay in charge of your profile.