Freeform is an official Apple app that comes for free with macOS, iPadOS, and iOS. It's a great way to write down creative ideas because it has a lot of blank room that keeps going on as long as you need it to.
You can also draw, sketch, and add color to your ideas. You can then share them in real time or have a FaceTime conversation while looking at your work.
Freeform is a lot of fun to use, and it also has a lot of creative possibilities for when ideas come to you. So, here are some things you can do with the app.
What Is Freeform?
Apple's version of a drawing app is called "Freeform," and it comes pre-installed on macOS Ventura 13.1, iOS 16.2, and iPad 16.2. In the app, you can make boards with a blank canvas that goes on forever and can be as long as you want in all ways.
With the drawing tools, you can use your finger or an Apple Pencil to write notes or draw on the page. It also has tools that let you add audio, pictures, and links. This makes it good for visually coming up with ideas or taking notes in a less ordered way.
Lastly, it's easy to share Freeform boards with other Apple users, and up to 99 people can work on the same board at the same time. You can also work with other people in the app using FaceTime, and boards can be synchronized across devices that are signed into the same iCloud account.
Visit our article on how to use the Freeform app if you need a quick start guide to get you up and going.
Read More: How to Twitter GIF Downloader by SmallSEOTools?
5 Ways to Use the Freeform App Creatively
Once you know how to make a board and use some of the basic tools, you might not know where to start. A clean page can be scary, but the Freeform app can help you get things done every day.
1. Brainstorm
First, you can use Freeform to come up with ideas. When you have a clean page, it's easy to write down ideas in any order that comes to mind. Younger people might like going paperless as long as they still have a place to draw and write openly.
There are no page plans to worry about; there is just one big canvas that can be stretched out. If you keep running into the edge of the page, just zoom out to see more room or drag the page in any direction to get to a blank spot.
Use the arrow from the shapes library to connect things in your ideas. You can also move the arrowhead near an object to instantly link it to that object. This will keep the connection between the two things even if you move them.
2. Create a Mood Board
Making mood boards is another good use of Freeform. You can import pictures from your hard drive to the board, but it's even easier to drag and drop images from the internet onto your board.
The best way to do this on an iPad is to use Split View to show Freeform on one side and a browser window on the other. Holding your finger on a picture until an option pops up lets you drag it into Freeform. Then, keep your finger down and drag the picture into Freeform.
This saves you from having to download each file to your computer and then import it by hand. You can add this tip to the list of iPad tricks that will help you get more done.
You can order your photos with a mood board app like Pure Ref, but the average user will find that Freeform does the job, especially since it comes pre-installed on all new Apple devices.
Read More: How to Use ChatGPT? What You Need to Know
3. Plan a Vacation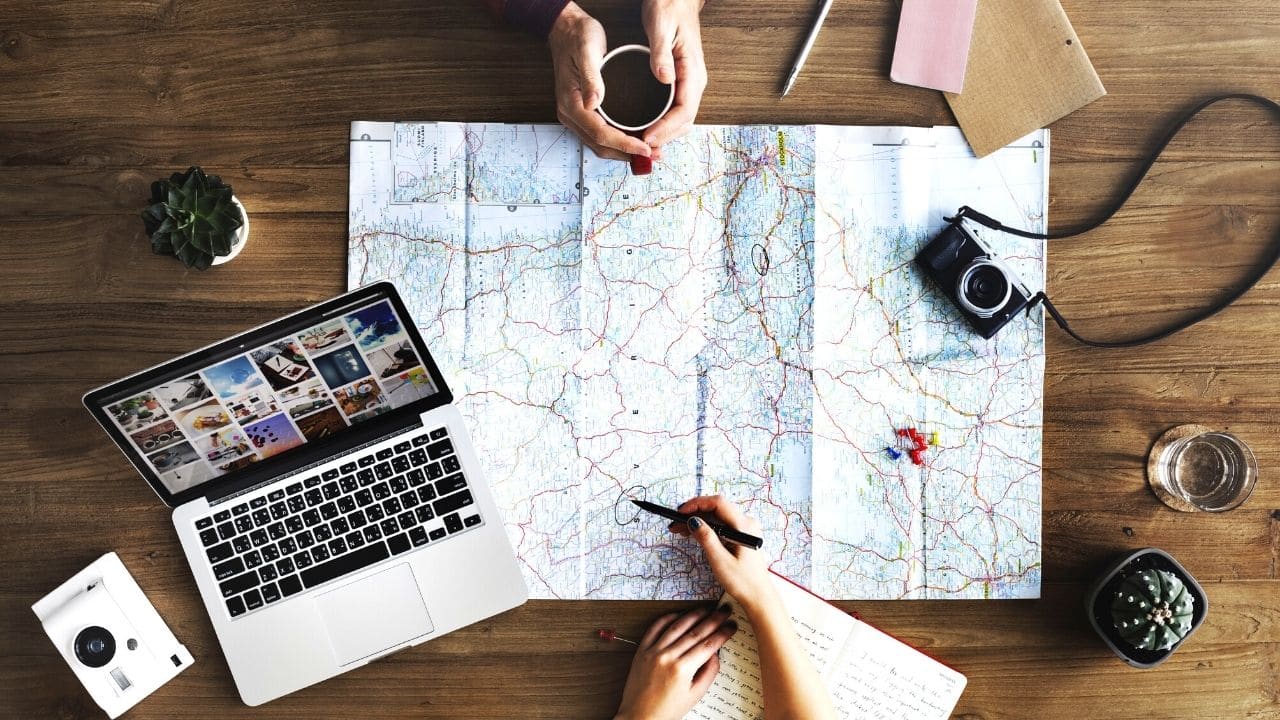 If everyone in your family uses Apple products, you might want to check out Freeform's live teamwork features. It could be a fun way to share your ideas when you are planning something like a trip.
First, you can share your board with up to 99 other people, which makes this doable. When someone joins the board, they can add things to it, and the rest of the group can see the changes as they happen. In other words, any changes that are made to the board are shown right away.
Freeform is a great way for families who live in different states or even countries to share their thoughts. Thanks to the built-in FaceTime feature, you could also have a video chat while you wrote down your thoughts.
4. Sketch
Freeform has a few simple drawing tools that work well with an Apple Pencil and an iPad. It's a great tool for people who prefer to draw out their ideas instead of typing them.
On an iPhone, you can also use your finger to draw with the drawing tools. For Mac users, this isn't true, and you won't be able to use the drawing tools at all. This could be Apple's way of getting more people to buy an iPad, but we hope that this will change with future updates.
Mastering Procreate on an iPad is still the best choice for artists or designers who need a wide range of tools, but Freeform is good for quickly sketching out ideas. The tools have been made easier to use, and the board only shows a few menu items. The rest are covered.
If you have an idea for a new piece of art or design, sketch it out in Freeform before you forget it.
Read More: Is CloudConvert Safe? What Is the Storage Capacity of Cloud Convert Server?
5. Teaching Tool
Freeform can be used as an app for teachers in the classroom. It's free to use, so if you already have an Apple device, it's a cheap way to get a useful tool.
You can send kids a link to the board so they can use it. If you don't make the board read-only, anyone with the link can make changes to it.
As a teacher, you may want to lock some parts so that students can't take them away. In this case, pick the item(s) to open the editing menu, then press the icon that looks like a circle with three dots inside it. This will bring up the full menu, where you can choose to "Lock an element in place."
On a Mac, the process is the same: Control-click on an item and choose Lock from the menu. Then, students can work on the board at the same time without taking away the important parts. Definitely, it's a fun way for kids to work together on a computer project.